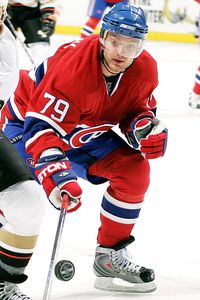 Coming from multiple reputed sources, notably RDS and Pierre Gauthier himself, we have the following rumour status updates:
- Andrei Markov negotiations are progressing, deal could be done as soon as tonight or tomorrow morning. Right now, Markov camp pushing for 3 years, Habs offering 2.
- Roman Hamrlik would like a 2 year contract, Habs have made an offer for 1 year.
- Pierre Gauthier is in regular contact with James Wisniewski's agent, but no progress on that front. Seems likely Wizz will want to test the UFA market on July 1st.
- Brent Sopel, Paul Mara, and Jeff Halpern are predictably not expected to get contract offers before July 1st. Halpern is getting married this weekend, and Habs made it clear they may still be interested later in the summer depending on how things are going.
- Gauthier is actively shopping Benoit Pouliot. If a trade partner is not found, Gauthier is still undecided on whether or not to give him a qualifying offer at the required $1.3M, which he would likely accept.
- On the subject of Jaromir Jagr rumours, Gauthier was mum, saying that any rumours you read involving the Canadiens do not come from a source within the organization. Refused to comment on Jagr at all, saying he will only talk about players that are a part of his organization and will not confirm or deny any story until it is a done deal, one way or the other.
- Gauthier was quick to express his belief that stability and team cohesiveness/experience together is important. He notes there have been many changes and players in and out of Montreal recently. SO - don't expect any MAJOR changes this off-season!
On a normal day, this would be a relatively significant update. With the crazy trades and signing that went on in Philadelphia today, this is barely even news! Oh, and between all of this, the NHL officially announced next year's Salary Cap as $64.3M. What a day!
And this is why Draft Day - along with Trade Deadline Day and July 1st (Free Agency Day) - is one of my favourite days of the year!