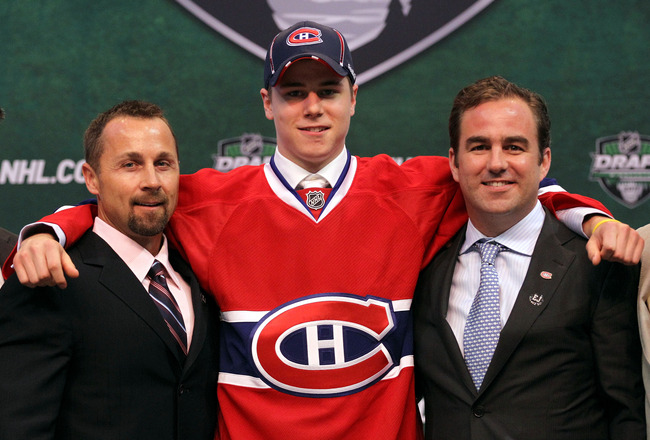 As we indicated
last night on Twitter
, the Montreal Canadiens today announced their roster for their 2nd development camp of the summer, and in a rather large surprise, it contains only 12 names, most of which represent this summer's draft crop (including 1st round selection Nathan Beaulieu, and both Daniel Pribyl and Magnus Nygren who are likely to return to Europe for the upcoming campaign). The small number is a little bothersome, as it would have been nice to see the team take flyers on more undrafted invitees, but at least it allows for more individual attention for the players that are in attendance.
Nathan BEAULIEU
Mac BENNETT
Josiah DIDIER
Darren DIETZ
Magnus NYGREN
Greg PATERYN
Colin SULLIVAN
Olivier ARCHAMBAULT
Étienne BRODEUR**
Daniel PRIBYL
John WESTIN
John MCFADDEN**
Brodeur, last year's QMJHL leading goal scorer, and defenseman John McFadden are the only invitees of the bunch. Given the small group, the camp will last just three days, this Wednesday, July 6th through Friday July 8th, at the Canadiens training complex in Brossard.
Looking at the two lists, of interesting note is that goaltender Robert Mayer, who spent last season with the Hamilton Bulldogs and has one season remaining on his contract with the Canadiens, was not invited to either camp. One might guess, then, that he is no longer in the organization's plans.