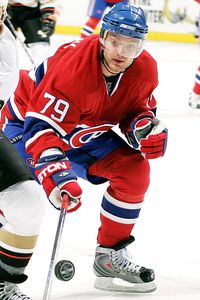 While the attention of the rest of the league is on the much-anticipated return to action of Sidney Crosby this evening, Habs fans have a big game of their own to watch. After ending the New York Rangers' 7-game win streak on Saturday night, the team will have a chance to put a stop to Boston's 8-game run this evening.
- Your Montreal Canadiens for tonight:
Mike Cammalleri - Tomas Plekanec - Brian Gionta
Max Pacioretty - David Desharnais - Erik Cole
Travis Moen - Scott Gomez - Lars Eller
Mathieu Darche - Petteri Nokelainen - Aaron Palushaj
Josh Gorges - P.K. Subban
Frederic St. Denis - Yannick Weber
Alexei Emelin - Raphael Diaz
Carey Price
- Carey Price was today named the NHL's first star of the week for a second time this season. Despite Peter Budaj getting a start mid-week, Price put up a 2-0-1 record with a .972 save percentage and a 0.67 goals against average. His last two starts have represent the first time in his young career that he has recorded back-to-back shutouts, with his current streak at 127 minutes. Congratulations Carey!
- Tonight marks the 100th game of P.K. Subban's career. The young blueliner has stepped up his game in the wake of injuries after a slow start to the season.
- Hal Gill, released from hospital on Friday, rejoined his teammates for practice for the first time this morning, but will not play tonight. His return shouldn't be far away, however.
- Gill skated in practice with Andrei Markov, who was wearing the same white-coloured jersey as his teammates. This led to speculation that he may have received medical clearance for contact in practice, but it was later clarified that he has yet to get that green light. It is expected that it may come later this week, though. There is still no specific timeline for Markov's return, but Jacques Martin had mentioned it won't be before the California road trip which is in early December.
- Chris Campoli and Andrei Kostitsyn also skated this morning, but with a team trainer as opposed to their mates. While Campoli being a ways off is hardly news, it seems Kostitsyn isn't progressing as quickly as many had hoped for.
- Turning our attention to the prospect ranks...
After a great game with a goal and 3 assists on Friday night, Brendan Gallagher was held off the scoresheet Saturday and then collected an assist on Sundy, now giving him 36 points in 21 games, but falling off the 50-goals-in-50-games track for the first time, stuck at 19.
Fellow WHL'er Darren Dietz scored a goal yesterday, giving him 15 points in 24 games and a team best +18 rating.
Despite finishing the night a +2, defenseman Nathan Beaulieu had a 6-game point streak broken yesterday. Montreal's first round pick last June has 20 points and is a +17 in 23 games.
Michael Bournival has played three games since returning from injury. He was twice held off the scoresheet (and finishing a -2 on both of those occasions), but Saturday night he picked up 2 goals, to now give him 12 in 10 games played.
Danny Kristo was held off the scoresheet for a second consecutive weekend (with a bye weekend in between), cooling off after a rocket start. He is now back at the 1 point-per-game mark with 12 points in 12 games.
Also in the NCAA, Mac Bennett scored his 3rd goal of the season, passing the 2 he notched last year. In his rookie season, the defenseman put up 12 points in 32 games, while now as a sophomore he has 10 in just 14 contests.