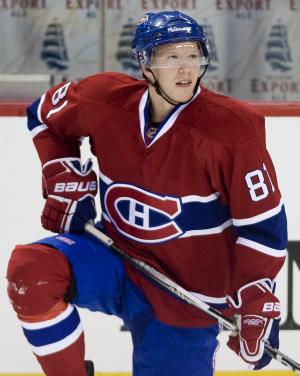 So how about that, ladies and gentlemen? A comeback win from down 2-0. The same old script would have had Your Canadiens stumble and take penalties after
Lars Eller
had reduced the lead to 2-1, before falling short of a tying goal in the dying seconds.
But not last night. If the Canadiens were a little thrown off in the first after that early "off Emelin, off posts, off Diaz, off Price, and in" goal, they didn't let off, and played well enough to get the win. The game wasn't perfect. Some might say they didn't deserve the win. But they'll take it, especially considering the several occasions this season where they lost but deserved a better fate.
Despite his production, Mike Cammalleri continues to struggle in overall play. Tomas Plekanec and Max Pacioretty had off-nights. Brian Gionta finished the night a -3 (though we'll forgive him a little for scoring the shootout winner).
Who was good? Well Scott Gomez left the game with a lower body injury (considered day-to-day), which allowed Lars Eller to return to the center position where he has been far more effective. Eller showed us another glimpse of his immense potential, leading the charges with a goal and an assist.
If P.K. Subban and Yannick Weber had difficult evenings, it was surprisingly strong play from Alexei Emelin and Raphael Diaz that solidified the back end. Though they played less than any other blueliners (17:08 and 19:06 respectively), they both left a positive impression, something that is becoming a trend in Emelin's case. It will be interesting to see what choices the Habs' brass makes once veterans start to get healthy. Andrei Markov and Hal Gill are non-negotiable LDs, while Jaroslav Spacek and Josh Gorges are most comfortable there, and Alexei Emelin has traditionally played there and only looked good there. Oh, and when Chris Campoli is also healthy? Yep, an LD too. The logjam on the left means some guys are going to have to shift over. On the right, we have P.K. Subban, Yannick Weber, and Raphael Diaz; not exactly the strongest group. Of the lefties, Gorges has spent the most time playing on the right, followed by Spacek. So perhaps we will see something like this?
Andrei Markov - Josh Gorges
Hal Gill - P.K. Subban
Chris Campoli - X
The X is the interesting spot. I'd love for Emelin to stay in the line-up since he has shown great improvement and brings a physical element that no other player in the group does. Unfortunately, though, with the more experienced Yannick Weber, Jacques Martin's favourite Raphael Diaz, and the grizzled veteran Jaroslav Spacek all in the mix, if everyone is healthy, it will take a trade for Emelin to see any ice time. From an asset management standpoint, it would likely make most sense for Diaz to be sent to Hamilton, since he can be demoted without clearing waivers, but we'll see what shall happen.
Erik Cole should have had the game winner with 30 seconds to go which you know he would have been happy about in his return to Carolina. But oddly, both the goal was disallowed AND no penalty was called for a blatant trip from the Hurricanes.
And how about Carey Price? No, it wasn't his best game of the season, but he did manage to stop all 3 Hurricane shooters in the shootout. Prior to this game, opposing teams had scored on all 4 shootout attempts against Montreal this season. Price's career shootout save percentage is just .695. The concept of him being a good shootout goalie because of Canada's big win over the U.S. in the world juniors several years back is really a myth. Price made few saves in that marathon, and Canada was really saved by the heroics of Jonathan Toews. Now I'm not dissing on Price or anything, but the shootout is simply not his thing.
Elsewhere...
- If you, like me, avoid watching L'Antichambre like the plague, then you would have missed them making a big deal out of Darche - Subban gate last night. For those that didn't notice, there was a play in last night's game where P.K. Subban was skating the puck up ice, and Mathieu Darche was calling for a pass. Subban made an extra move before dishing the puck off, leaving Darche just to dump it into the offensive zone. Darche was enraged, emphatically waving his arms and yelling at Subban as the two skated off to the bench. The folks at L'Antichambre were divided on the issue, half ripping Subban and half ripping Darche, but certainly that kind of a display of anger towards a teammate isn't something you want to see in-game, especially not from a fourth liner plug towards your #1 defenseman. L'Antichambre went on to turn it into a "dressing room feud between old guys and young guys," citing things like Brian Gionta not being willing to pass the puck to Max Pacioretty, or Mike Cammalleri not wanting to pass to Lars Eller. Ridiculous poppycock.
- If you missed it yesterday, RDS had some fun photoshopping Scott Gomez into a Pittsburgh Penguins jersey and Sidney Crosby into a Habs jersey.
- The Hamilton Bulldogs are struggling, suffering another big loss yesterday, 5-2 at the hands of the Grand Rapids Griffins. The 'Dogs took a 2-1 lead into the third thanks to goals from Phil DeSimone and Brian Willsie, but couldn't hold on. Louis Leblanc picked up an assist in the losing cause, while Alexander Avtsin was a team-worst -4. (on the bright side, I guess it at least means he saw good ice time in the third!)
- Perry Pearn (remember him?) has agreed to take a job with the Canadiens as a pro scout. He attended the Winnipeg Jets - Washington Capitals game last night. Pro scouts have the mandate of, well, scouting other pro teams. This could be to have good information on trade targets, or simply to assess other opposing teams for upcoming games.
- And non-Habs related, but a couple of recent European hockey videos to make you giggle:
-