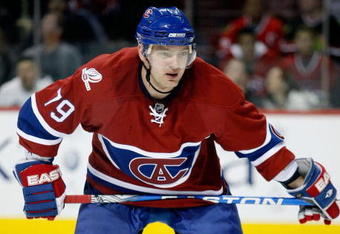 After much speculation at yesterday's morning skate, official word got out this morning that defenseman
Andrei Markov
has received medical clearance for contact in practice. While this isn't a timetable for a return to game action (which Jacques Martin previously said wouldn't be before early December's California trip), it is an important step in his recovery.
Let's use this occasion to look back and see what exactly has gone on the past while in the strange saga of Mr. Markov, which has taken enough twists and turns to be a television soap opera.
June 1998 - Andrei Markov was drafted by the Montreal Canadiens in the 6th round of the 1998 NHL entry draft. He had only recently made a shift from playing center to his now familiar spot on the blueline during the 1996-97 season with Voskresensk Khimik of the Russian league. With the pick directly before Markov, the Ottawa Senators selected Chris Neil, while earlier in the 6th round, with another of their picks, the Habs had taken Gordie Dwyer. Also notable is that, just 9 picks after Markov, the Detroit Red Wings stole Pavel Datsyuk. Some pretty good players for 6th round picks! (also taken that round were Trent Hunter, Niko Kapanen, Antero Niittymaki, and Ales Kotalik)

October 2000 - Markov crossed the ocean for the 2000-01 season and had an immediate impact with the Canadiens, spending only 14 games with the AHL's Quebec Citadelles while playing 63 for the Habs in scoring 23 points as a rookie.
2001 - 2007 - Markov played big minutes for the Canadiens (with the lockout season in the middle spent back in Russia) and, for those, who forget, was quite healthy and durable. In fact, he did not play fewer than 67 games in any of those years.
May 2007 - For the first time in his career, Markov had the chance to become an unrestricted free agent. Instead, he chose to re-sign with the Canadiens ahead of time, inking a 4-year, $23M deal ($5.75M cap hit). In the first year of his deal (07-08), Markov would set a new career high with 58 points, only to better that the following season (08-09) by netting 64. All seemed good with Markov and the Habs, as the blueliner was establishing himself as a top 10 d-man league-wide.
April 2009 - The Canadiens were looking like they just might be able to salvage a disastrous Centennial season as a late-season hot streak prevented the club from slipping out of a playoff spot. But the straw that broke the camel's back was a hit on Markov by Mikhail Grabovski late in a 6-2 win over the Toronto Maple Leafs on April 4th that injured his left knee. The Canadiens folded in four straight games in the first round, before opting to completely overhaul their roster that summer. Markov, however, remained part of the team's core.
October 2009 - As the team looked to turn to a new chapter with a new leadership group in place, the unthinkable happened. Their top defenseman, in his return to action in the season opener on October 1, had his left ankle slashed on Carey Price's skate in a freak accident and required surgery which was initially predicted to keep him out till February. This game was again against the Leafs, which had many believing Markov was cursed versus them.
December 2009 - The General showed he could be a quick healer in suiting up with his teammates again on December 19, scoring 2 of the Canadiens' tallies in a 3-0 win over the New York Islanders.
April 2010 - The Canadiens were just starting out on what would turn out to be a fairytale run to the Eastern Conference finals when, in an April 30 second round game against the Pittsburgh Penguins, a hit by Matt Cooke would cause damage requiring surgery on Markov's right knee.
October 2010 - Markov wasn't ready for the following season's opener, but got back in the line-up by October 30th. Many questioned if it was perhaps too soon, as he didn't have the same immediate impact as in his previous return from injury.
November 2010 - Just 7 games into his return, in a blowout victory over the Carolina Hurricanes, Markov collided awkwardly with 'Canes captain Eric Staal and slid into the boards, twisting his knee below him. You could instantly see it on his face. It was bad. Markov was fully aware of what had just happened and was incredibly frustrated by it. The right knee hadn't held up, and it would be back to the surgeon's table.
June 2011 - After playing only those 7 games during the 2010-11 season, Markov was again set to become a UFA. The Canadiens had a big decision to make on a guy who had been loyal throughout his career and was one of the best at his position when healthy. There were no d-men of Markov's calibre available to replace him on the free agent market, and so management put their faith in the Canadian-citizen-by-choice by awarding him a generous 3 year deal at his same previous cap hit ($5.75M / year).
Risky, no doubt. Three years at that kind of money is a lot to offer someone who had played only 52 regular season games over the prior two seasons combined. But they couldn't really be gambling here, I told myself. Who should know better about Markov's health than the Habs' brass and trainers?! If they feel confident enough to make this investment, they must be certain he will be fully recovered and ready to go in no time!
September 2011 - As training camp rolled around, the rumours and stories began to fly. Had he suffered a setback requiring his knee be drained late in August? Was it because he hadn't been rehabbing it hard enough? Or had he been training too hard? One story indicated that he had returned to Russia for a few weeks vacation and the club was shocked upon his return that he hadn't kept up with his rehab schedule while away. He then began doubling up the intensity of his workouts in Montreal to make up for the lost time, which resulted in the development of water in his knee. Of course, this is rumour at best, but it is a story that fits reasonably well with all the public evidence we have.
Markov was skating with the team when camp began, but then he seemed to fall slightly off the radar. Next think you know, Chris Campoli was signed. Gauthier was quick to tell reporters that Campoli had absolutely nothing to do with Markov's health.
"He's (Markov) progressing very well," Gauthier said on September 26th. "The knee is in very good health. He keeps moving along in his rehabilitation. We'll see if he'll be quite ready or not (for the season opener), but he shouldn't miss too many games." (source:
http://www.tsn.ca/nhl/story/?id=376815
)
Won't miss many games, huh? Well that's comforting, but then why had the team been insisting he was healthy? Or were they? Four days later, on September 30th, head coach Jacques Martin was quoted as saying, "Markov's rehab is going well. He's skating on his own and continues to work on building his strength.
We knew from the start he wouldn't be ready for the start of the season
, so it's on schedule." (source:
http://www.sportsnet.ca/hockey/2011/09/30/habs_camp/
)
It's not hard to understand, then, why some perceive a rift between Pierre Gauthier and Jacques Martin. Their statements seem quite contradictory. The team seems to want to cover up that they perhaps err'ed in judgment or didn't do their due-diligence sufficiently with regards to Markov's health.
October 2011
- Still following? So Markov is doing well, and won't miss many games. But where did he go? Suddenly no one could find him around the rink. His progress appeared stalled. Had he stopped skating? Then we got this leak courtesy of blogger Big T on the Habs: a photo of Markov waiting at Pierre Elliot Trudeau airport, his right leg elevated as he sits in a chair, waiting to board a plane to Florida. (source:
http://bigthabs.blogspot.com/2011/10/andrei-markov-update.html
)
Indeed, on October 12th, Martin confirmed Markov had flown to Florida to meet with his surgeon, Dr. James Andrews. The nature of the meetings was unclear; would Markov require a follow-up procedure? Was it just for observation and to receive a green light? Concerns continued to mount when what was initially announced as a one-week stay was extended to nearly two full weeks in the Sunshine State. There was talk amongst some of possible discontent between Markov and the organization, or some other strange issues at work. Rumour-monger bloggers were quick to put out stories suggesting that Markov's next game in the NHL would only be following a trade to another club. Questions were raised about neighbours observing his house being frequently inhabited both now and throughout long stretches of summer. Were things less rosy than the team wanted all to believe?
November 2011 - But then, almost miraculously, things seemed to get back on track. Upon returning to Montreal, Markov was back on the ice, starting with just 15 minute sessions but working his way back up to contactless practices with the team. Though there is no specific timeframe for his return, even with his today (November 22) being cleared for contact, the club has suggested it won't be before early December's California road trip. By that time, he will have missed nearly 1/3 of the season, which - while it's not like anything is lost just yet - certainly doesn't constitute "not many games."
But of course, it couldn't be that simple. A chronicle as convoluted as this requires at least one more twist before he can get back on the ice. And that seems to have come, as there has been a confirmation that Markov's Candiac home is on the market for a price tag of $1.5M. (source:
http://25stanley.com/a-vendre-1-5m-pour-la-maison-dandrei-markov-a-candiac.html
) It seems he and his common law partner have split, and thus he no longer felt the need to retain the home he shared with her and their two kids. An understandable situation for anyone going through such a time in their personal life, but certainly it hasn't stopped the internet Hab fan gossipers and rumour mongers from suggesting the house is being sold because he wants out of Montreal.
As Habs fans, we can all hope that Mr. Markov will be back in the line-up as soon as possible. He is the type of player that can take a bubble squad and turn them into true contenders. But most importantly, it is crucial that when he does return, he is fully healed and will be able to play the vast majority of the team's games over this season and the next two. If not, for the team to be competitive, they will need their young blueliners to mature awfully quickly and/or seek a real replacement for a true number 1 d-man.
EPILOGUE UPDATES AS OF DECEMBER 1:
November 30 2011 - The day many expected Markov to return to the line-up, for a game against the Anaheim Ducks in sunny California. That week, Markov had spent practice on a regular top 6 pairing with Alexei Emelin, and even lined up on the team's top powerplay unit beside P.K. Subban. There was a little worry when he skipped out on some contact in the corner drills, but then, something completely unpredictable. There we were on game day, with the whole team taking to the ice in the morning, and no Markov. A "therapy day" was the excuse Jacques Martin gave. Of course, no sign of Markov for that evening's game.
December 1 2011 - The next morning, in getting ready for the second half of a back-to-back, this one against the San Jose Sharks, only the injured and suspended players took to the ice in the morning. But along with Max Pacioretty, Chris Campoli, Jaroslav Spacek, and Andreas Engqvist was no Andrei Markov. Is this a good sign? Is he a healthy player who thus got the morning off? Or was he unable to lace up his skates for a second straight day? Perhaps we'll know more come game time.
And then this: Montreal reporter JF Chaumont confirms the team has stated Andrei Markov is not with the club in San Jose. The Habs obviously wanting to torment their fanbase did not elaborate as to where Markov is, or why he isn't with the group.
It would later be revealed that Markov stayed in Anaheim and headed to L.A. to meet with doctors while the team traveled to San Jose. Given that the Habs' next game was back in Los Angeles, the move made some sense. However, reporters Brian Wilde and Martin McGuire revealed a story prior to game time that in fact, Markov was having trouble pivoting to one side, and thus again had to take a step back in his recovery. He was to be off the ice for at least the next 5 days.