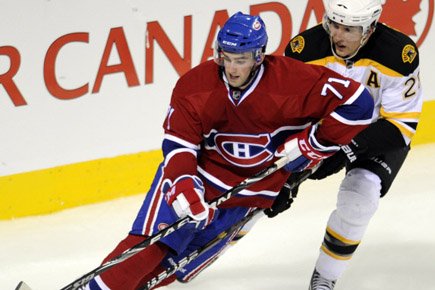 In the wake of the
Max Pacioretty
suspension, the Montreal Canadiens announced that 2009 first round pick
Louis Leblanc
has been recalled from the Hamilton Bulldogs.
Leblanc, 20, missed the first 5 games of his debut professional season, rehabbing from off-season shoulder surgery, but has since collected 4 goals and 10 points in 14 games. Leblanc is average sized at 6'0", 180 lbs, but plays an aggressive forechecking and responsible defensive game.
Leblanc is likely to play only if Andrei Markov doesn't dress for Wednesday's game (which is the likely scenario, given that the club might not want him to return in the first half of back-to-back games). He can play either center or the wing, and is certainly a better option than playing Frederic St. Denis on the wing, but if Markov dresses, it's possible the team uses Yannick Weber up front ahead of Leblanc.
I like this move, given that it will only be for 1 to 2 games at the most. Leblanc has played well in Hamilton, and a little taste of the big league may motivate him further to work hard to earn a full-time promotion. He was quite effective in preseason games a year ago, but had to sit out this year in rehabbing his injury.
He should wear # 71, as he did in preseason a year ago, and if he does play tomorrow, he will become the milestone 800th player to play for the Canadiens in a regular season game in franchise history.
But a word of caution, Habs fans: don't expect too much from him right away. Leblanc has an NHL future, but it may be as a two-way third liner rather than a top 6 scorer. He isn't NHL ready yet, and will continue to develop in Hamilton. He's only 20, so be patient with him please. The fact that his debut comes on the road should help to lessen the heaps of pressure being lumped on his shoulders.