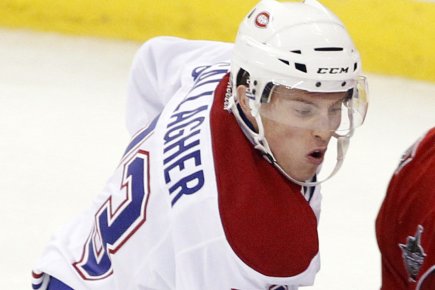 Though the Canadiens have yet to submit a contract offer to
Brendan Gallagher
, which they'd have to get signed for him to play any regular season games, the 19-year old was at practice this morning with the Habs.
Gallagher slid into the spot yesterday occupied by Aaron Palushaj on a line with David Desharnais and Andrei Kostitsyn.
The top 6 remained unchanged, meaning full forward lines were:
Mike Cammalleri - Tomas Plekanec - Erik Cole
Max Pacioretty - Scott Gomez - Brian Gionta
Andrei Kostitsyn - David Desharnais - Brendan Gallagher
Michael Bournival - Andreas Engqvist - Mike Blunden
Mathieu Darche - Lars Eller - Yannick Weber - Aaron Palushaj
Hal Gill - P.K. Subban
Josh Gorges - Chris Campoli
Jaroslav Spacek - Raphael Diaz
Alexei Yemelin - Jeff Woywitka
Alex Henry - Frederic St. Denis
Certainly this looks good for Gallagher at least playing Thursday night, if not having an inside track at a roster spot. Lars Eller is not yet cleared for "full practice", and given that his line is the "extras" group with Yannick Weber practicing at wing for a second consecutive day, it looks like Michael Bournival, Andreas Engqvist, and Mike Blunden may be dressed ahead of Aaron Palushaj tomorrow evening.
Similarly, it appears Raphael Diaz will get another chance on D ahead of Alexei Yemelin by virtue of the pairings. Diaz was impressive in his previous game, so taking another look at him doesn't seem like a bad move. Yemelin may start the year in the 7th d-man slot if Diaz earns a top 6 role.
- Also supporting Diaz's current "hold" on a spot are the powerplay units from practice.
First unit:
Mike Cammalleri - David Desharnais - Erik Cole
Tomas Plekanec - P.K. Subban
Second Unit:
Max Pacioretty - Scott Gomez - Brian Gionta
Raphael Diaz / Chris Campoli / Andrei Kostitsyn (rotating)
Tomas Plekanec at the point is not something too new, as he occasionally played back there last season. If he does get a chance in that spot, it will be as a placeholder until Andrei Markov is ready to feed P.K. Subban the puck instead.
- Jacques Martin appeared rather impatient this morning, often loudly correcting players and taking time to point out even small mistakes. With the team off to a 1-5-0 preseason start (despite of course not playing a full roster), now seems like a good time for the coach to step up before the real games begin.
- In other news, on a different sheet of ice in Brossard at Hamilton Bulldogs camp, the injured Olivier Fortier and Louis Leblanc are both on the ice, but still wearing "no contact" jerseys. Leblanc appears still a little while away, as he sat on the bench for much of practice. This actually highlights a huge advantage to having the Canadiens and 'Dogs both holding training camp practices in Brossard. Because they've yet to receive a clean bill of health, neither Fortier nor Leblanc can officially be cut from Habs' camp. Yet since Hamilton's sessions are in the same building, they're able to train with their AHL teammates.
UPDATE: - Placed on waivers yesterday, Brian Willsie and Nathan Lawson both cleared and will join their AHL teammates with the Hamilton Bulldogs. Defenseman Alex Henry, captain of the Bulldogs and coming off of a solid training camp, was placed on waivers today to also be sent down.