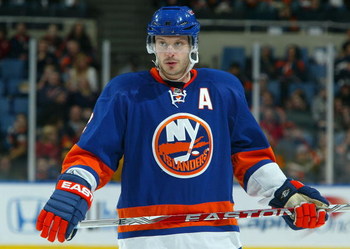 Last week, we covered 4 of the 6 NHL divisions in our season previews (
Southeast
,
Northwest
,
Central
,
Pacific
), so today we continue on with the Atlantic, before wrapping up with the Northeast tomorrow and then finally our overall predictions on Wednesday.
NEW JERSEY DEVILS
Projected depth chart / lines:
Patrik Elias - Travis Zajac - Zach Parise
Ilya Kovalchuk - Dainius Zubrus - Nick Palmieri
Mattias Tedenby - Jacob Josefson - David Clarkson
Eric Boulton - Dave Steckel - Cam Janssen
Henrik Tallinder - Anton Volchenkov
Andy Greene - Adam Larsson
Bryce Salvador - Matt Corrente
Martin Brodeur
Johan Hedberg
The Devils were among the hottest teams in the league over the second half of last season but it wasn't enough to overcome a disastrous start. While the return this season of star forward Zach Parise from injury will be a boost to the club's chances, another year of wear on Martin Brodeur can't help. Still, it could be an exciting year offensively for New Jersey with the emergence of three young forwards who should earn full-time roles in Nick Palmieri, Jacob Josefson, and Mattias Tedenby. All three have the potential to be top 6 contributors and now that all have gotten their feet wet in the big league, they will look to improve on last year's point totals. After signing his huge long-term contract, Ilya Kovalchuk was hot and cold last season, finishing below a point-per-game for the first time since 2006-07. Given that they'll be on the hook for his deal for many years, N.J. will need to find a way to get the best out of him quickly.
On D, the big addition will be first round selection Adam Larsson who should be expected to earn a spot right out of training camp. The 6'3" Swede was a real gift to the Devils at 4th overall as the top 3 teams opted to take forwards. If Brodeur isn't getting any younger, he will at least be well protected by the team's top shutdown pair of Anton Volchenkov and Henrik Tallinder, provided the former can stay healthy after playing just 57 games last year.
Clearly this is Brodeur's team, but at least Johan Hedberg is capable of providing the Quebec native with more rest than his career averages would suggest. Hedberg played 34 games for the Devils last year, and 47 for the Atlanta Thrashers the year before, with numbers that compare
YourCanadiens Verdict: Bubble playoff team.
NEW YORK ISLANDERS
Projected depth chart / lines:
Matt Moulson - John Tavares - Michael Grabner
Pierre-Alexandre Parenteau - Brian Rolston - Blake Comeau
Josh Bailey - Frans Nielsen - Nino Niederreiter
Matt Martin - Marty Reasoner - Trevor Gilles
Mark Streit - Milan Jurcina
Mark Eaton - Travis Hamonic
Ty Wishart - Andrew McDonald
Rick DiPietro
Al Montoya
The Islanders are still in rebuild mode and will likely only begin to look competitive in time for the arrival of 2011 first round pick Ryan Strome. There are some pieces in place, however, as Michael Grabner unexpectedly showed tremendous progress last season, and Matt Moulson topped the 30 goal mark for the second straight year. If Brian Rolston shows to have any gas left in the tank, he will be a good veteran presence to take some pressure off the young John Tavares and Frans Nielsen (also coming off a career year) at the center position. If players like Nielsen and Grabner pleasantly surprised, Josh Bailey was a disappointment, scoring just 28 points in 70 games despite having 17 points in 11 AHL games. Turning 22 in October, the days remaining for Bailey to establish himself as an offensive threat are getting shorter. If Bailey can't do it, though, look for a breakout from rookie Nino Niederreiter who got a 9 game trial last year before putting up 70 points in 55 WHL games.
On the back end, Mark Streit will return after missing all of last season with injury and - poolies be aware! - 50+ points is not an unreasonably expectation from the club's #1 d-man and PP quarterback. The rest of the defense still needs lots of work though, with the team looking to 21-year old Travis Hamonic, 23-year old Ty Wishart, and eventually - possibly even as soon as this year - 20-year old Calvin de Haan to form a new up-and-coming core.
Starter Rick DiPietro has played a total of 39 games over the last 3 seasons combined and given that he is under contract until 2021, fans around the league tend to enjoy mockingly following his injuries. Al Montoya was a nice story for the Islanders last year, seen as a bust since being taken 6th overall back in 2004, but posting a strong .921 save percentage and 2.39 GAA in 21 games, his only NHL action to date outside of 5 games with Phoenix in 2008-09. There is a big question mark in goal with regards to the status of Evgeni Nabokov, who the Islanders plucked off waivers after the Detroit Red Wings tried to sign him from Europe during last season. Nabokov initially refused to report, but there has been word over the summer that he expects to be at camp this month.
YourCanadiens Verdict: Out of the playoffs.
NEW YORK RANGERS
Projected depth chart / lines:
Sean Avery - Brad Richards - Marian Gaborik
Brandon Dubinsky - Derek Stepan - Ryan Callahan
Mats Zuccarello-Aasen - Artem Anisimov - Ruslan Fedotenko
Wojtek Wolski - Brian Boyle - Mike Rupp
Marc Staal - Daniel Girardi
Mike Sauer - Ryan McDonagh
Tim Erixon - Michael Del Zotto
Henrik Lundqvist
Martin Biron
To no one's surprise, the Rangers landed the big fish on the UFA market this summer, signing Brad Richards to a long term deal until the summer of 2020. With Richards in the mix, New York has a deep group of talented forwards buoyed by the young Derek Stepan and Mats Zuccarello-Aasen, both of whom made strong NHL debuts last season. Marian Gaborik missed 20 games last season and his production trailed off significantly from his first with New York, so he'll look to bounce back playing with a new center. The team's bottom 6 presents an impressive mix of size and skill with the addition of Mike Rupp giving Sean Avery some breathing room to perform his pest antics that get opposing teams off their game. Offensively, Glenn Sather has done a nice job in assembling a mix of young and old, talent and strength, for a nicely balanced group of forwards.
There are some questions on defense though, given the age of the group likely to start the season with the club. Though still only 24, Marc Staal can't be considered a green rookie, emerging as a true top pairing stalwart. When Michael del Zotto regressed in his play last season, it was former Habs' draft choice Ryan McDonagh who stole his spot as a regular contributor by year's end. In addition to those two, this season should mark the debut of Tim Erixon - a Calgary Flames first round pick in 2009 - in the NHL after signing to come over from Sweden. The 20-year old is a two-way d-man who will battle with Steve Eminger and Pavel Valentenko for a spot in the top 6.
Henrik Lundqvist is coming off another excellent season which saw him lead the league with 11 shutouts despite playing fewer than 70 games for the first time since his rookie season in 2005-06. This enabled him to set a career high for save percentage with a .923, so expect back-up Martin Biron to get enough action to keep Hank fresh.
YourCanadiens Verdict: Bubble playoff team.
PHILADELPHIA FLYERS
Projected depth chart / lines:
James van Rimesdyk - Claude Giroux - Daniel Briere
Jakub Voracek - Brayden Schenn - Jaromir Jagr
Wayne Simmonds - Maxime Talbot - Scott Hartnell
Andreas Nodl - Blair Betts - Jody Shelley
Chris Pronger - Matt Carle
Kimmo Timonen - Andrej Meszaros
Braydon Coburn - Andreas Lilja
Ilya Bryzgalov
Sergei Bobrovsky
We previously went over
this summer's remodeling of the Flyers
and many in the hockey world are eager to see how it pans out. Replacing all of Jeff Carter, Mike Richards, Ville Leino, and Kris Versteeg up front will be no easy task, but youngsters
Jakub Voracek
,
Brayden Schenn
, and
Wayne Simmonds
are no slouches. Voracek's offense may end up equaling Carter's alone, while Schenn begins his rookie season in the NHL after putting up 7 points in 7 regular season AHL games and adding 4 points in 5 playoff games at the end of last year. If Simmonds does play on our projected third line with
Maxime Talbot
and
Scott Hartnell
, they will be a trio as tough to play against as perhaps any in the league. After much talking this summer, it will be fun to see if
Jaromir Jagr
truly does have what it takes to be productive in the National League or if he is limited to a minor powerplay specialist role.
It appears Chris Pronger's injury problems are ongoing as he may not be ready for training camp. The Flyers' D looks far better with him in the line-up eating up minutes and covering for a softer partner. Still with the always underrated Kimmo Timonen, who, despite his offense slowing down with age, remains a very solid veteran, Philadelphia's top 4 is top tier in calibre and cements them as a conference contender.
But even if the D misses Pronger for any period of time, they've addressed what has long been their Achilles heel by bringing in Ilya Bryzgalov as their starter. Bryzgalov has been out of the spotlight spending the last four years in Phoenix, but put up a save percentage of .920 or better in three of those four years despite a young and inexperienced team in front of him. The only question will be how he holds up in the post-season where his experience and success are far less. As a positive, he should be a great mentor to fellow Russian Sergei Bobrovsky, but with Bryzgalov signed until 2020 it's most likely the Bob's next real shot will be with another team.
YourCanadiens Verdict: Conference contender.
PITTSBURGH PENGUINS
Projected depth chart / lines:
Chris Kunitz - Sidney Crosby - James Neal
Tyler Kennedy - Evgeni Malkin - Steve Sullivan
Matt Cooke - Jordan Staal - Pascal Dupuis
Craig Adams - Dustin Jeffrey - Arron Asham
Kris Letang - Brooks Orpik
Paul Martin - Zbynek Michalek
Matt Niskanen - Ben Lovejoy
Marc-Andre Fleury
Brent Johnson
The Pens were rather quiet this summer while sitting and anxiously waiting for updates on the health of Sidney Crosby. Depending on who you believe, it looks at best that he'll miss the start of the season, and at worst that he perhaps will never play again. His absence is a huge loss for the Penguins, but also one for the league in general as he represents a generational talent. Still, Pittsburgh silenced many doubters last season by maintaining their Eastern Conference positioning despite having to play without both Crosby and Evgeni Malkin, so getting just one of the two stars back is still a major addition. After trading for James Neal last year, the signing of Steve Sullivan finally provides the team with enough depth at wing to go along with their trio of stud centermen and Sullivan is a darkhorse fantasy pool option for a strong bounce back performance.
Last summer's additions of Paul Martin and Zbynek Michalek went a long way to stabilizing the Penguins' back end, and if Kris Letang can repeat or improve upon last season's performance, he may be on the verge of becoming a Norris candidate calibre blueliner.
Personally, I'm not the biggest Marc-Andre Fleury fan but he is a starter of sufficient quality to take this team to the promised land if they get healthy contributions from all of their forwards. He's a fine goalie when you're trying to win games 6-3 as opposed to 1-0 and will benefit from playing behind some strong defensive defensemen.
YourCanadiens Verdict: Solid playoff team.
Tomorrow we wrap up our divisional previews with the Northeast before getting into specific predictions league-wide on Wednesday!