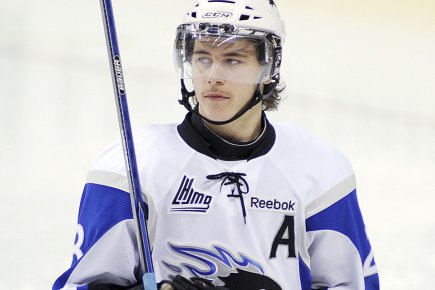 As mentioned when we unveiled the summer schedule, it will occasionally be interrupted to bring you Habs news, so - while waiting for the World Championships to kick off - today we look at the few members of the organization still playing for their respective clubs.
QMJHL
Nathan Beaulieu
(pictured left)
and the Saint John Sea Dogs have been on a long break after sweeping Baie-Comeau, which brought their record this post-season to 8-0. What makes it such a lengthy wait is that all three other remaining match-up have gone to 7 games! Beaulieu has scored 2 goals and 8 points to go with a +15 rating on the dominant Sea Dogs. How good has his team been? He ranks only 10th on the club in scoring at the point-per-game mark (second amongst d-men), and fourth in +/-. Saint John will face Chicoutimi in round 3 because...
If the Sea Dogs have been coasting,
Michael Bournival
and
Morgan Ellis
's Shawinigan Cataractes had their hands full with Chicoutimi in round 2. The Cats held a 3-2 series lead, but fell by a 2-0 score in game 6, and were bested 3-2 in the decider. Bournival has had a pretty miserable playoff, scoring just 1 goal and 7 points in 11 games, leading many to believe he is playing injured. His ice time didn't seem to be dipping, however, based on his face-off stats, and in an interview he said he was disappointed with his own lack of production. Ellis on the other hand has been a force for his club, recording 11 points in the 11 games. With the loss, Shawinigan is out of the QMJHL playoffs, but they are the host of this year's Memorial Cup, so they get to play in that tournament anyway. As they were eliminated in the second round, they will now be off for 31 days while the other CHL teams try to fight their way in. If Bournival is hurt, this will give him time to rest and heal up.
OHL
Captain
Jarred Tinordi
and his London Knights survived a bit of a second round scare, eliminating the Saginaw Spirit four games to two. Tinordi - a notoriously tough customer in his own end - has been a huge surprise offensively in the post-season, with 2 goals and 5 points in 10 games, to go with a +6 rating. His 2 goals match his regular season total, scored in 48 games this season. The Knights will play Kitchener in the third round starting Thursday.
WHL
Patrick Holland
and the WHL's top-ranked Tri-City Americans were unable to close out their series in game 6, despite a Gordie Howe Hat Trick from Holland himself (a goal, an assist, and a fight), losing 4-3 in overtime to the Spokane Chiefs. Holland has 3 goals and 12 points in 9 playoff games. The Americans host game 7 this evening.
AHL
There will be no playoffs for the Hamilton Bulldogs this season, though the situation might have been very different if there were fewer injuries throughout both the Canadiens' and Bulldogs' rosters this season. The 'Dogs, reinforced by a number of players once the Habs' season was over, won their final game by a 3-2 score.
Robert Mayer
made 29 saves and was named second star behind
Andreas Engqvist
who had 2 assists.
Blake Geoffrion
and
Aaron Palushaj
each had a goal and a helper. Here's a glance at the team's final scoring leaders this year from The AHL's website:
The 'Dogs also handed out a number of awards at year's end, with
Andreas Engqvist
and
Brian Willsie
being named team co-MVPs (as voted by their teammates).
Aaron Palushaj
won the 'Dogs' Molson Cup for being named a top star most frequently,
Frederic St. Denis
was named top defenseman by the media, and despite spending much of the season in Montreal,
Louis Leblanc
was recognized as the club's top rookie.
The battle for top rookie will be an intense one next season, and we'll look at what Hamilton's vastly improved roster might look like next year in a piece this Friday.