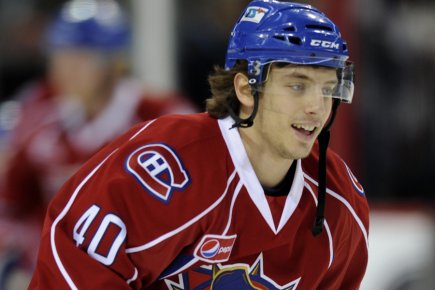 While it was a disappointing season for the Montreal Canadiens and their fans, it was equally hard for the faithful of the Hamilton Bulldogs. The 'Dogs finished with a 34-35-7 record, leaving them 14th in the AHL's Western Conference. The reasons for their failures are many; injuries to players both in Montreal and in Hamilton, additional call-ups following trades, and - perhaps most importantly - a lack of skilled depth caused by the Canadiens trading their second round picks (and even once first round pick) away the past few seasons, with few AHL vets signed to fill the void. The latter reason hurts/thins out a team's prospect pool over time, and Montreal will need to draft carefully to refill the ranks with their 5 second rounder over this summer's draft and the next.
So are the 'Dogs stuck with being a mediocre team until some of those future picks mature? Not necessarily. In fact, 2012-13 should be quite an exciting season for those that follow this team that has become accustomed to strong finished as a feeder club to the Habs. With the obvious exception of those about to be drafted with the Canadiens' top picks this June, nearly all of the organization's top prospects will make their pro debuts with the Bulldogs next season.
Let's start by seeing what it might look like. I'm going to take a conservative assumption that most of the guys who finished the year in Montreal will either start next season there, or otherwise have left the organization. For this exercise, then, I'll exclude
Aaron Palushaj
,
Louis Leblanc
,
Blake Geoffrion
, and
Frederic St. Denis
. That would leave the Bulldogs with the following:
___ - Phil DeSimone - Danny Kristo
Ian Schultz - Michael Bournival - Brendan Gallagher
Olivier Fortier - Gabriel Dumont - Patrick Holland
Joonas Nattinen - ___ - Andrew Conboy
Philippe Lefebvre, Alain Berger
Jarred Tinordi - Morgan Ellis
Nathan Beaulieu - ___
Brendon Nash - Greg Pateryn
Joe Stejskal
___
Robert Mayer
Peter Delmas
The words young and inexperienced are some of the first that come to mind when looking at this team, but there is no denying the huge amounts of talent and potential here as well. The lack of experience is a reason I left blanks ( ___ ) in some spots rather than filling them with players I have as reservists, as to put together a competitive team, some quality vets should be added.
At forward,
Brian Willsie
, a 34-year old with 381 NHL games under his belt,
had a decent season in Hamilton, but will be a UFA this summer, so his return is uncertain. Then 6 forwards will be restricted free agents this summer, meaning the Habs will need to make decisions as to whether or not they have futures in the organization. The first is
Andreas Engqvist
, the two-way forward who shared co-team MVP honours with Willsie this season. Montreal has nothing to lose re-signing Engqvist and placing him on waivers if (when?) he doesn't make the NHL club out of training camp; if he gets claimed, no real loss there. The question will be whether Engqvist wants to stick around in North America, or if he'd rather head back over to Europe as a free agent given his inability to stick in the NHL thus far.
Next is
Olivier Fortier
, another two-way guy who has impressed in spurts, being used on top trios and even on the powerplay at times despite his less than impressive career offensive outputs. Staying healthy has been a challenge for the versatile forward who can play both center and wing, limiting him to just 37 games this past season. There were times where he might have been near the top of the call-up list, but was unfortunately unavailable. For his usefulness, I expect the team to come to terms with him.
Third is
Andrew Conboy
, a player many were high on some three years ago when he made his pro debut. He was seen as a reckless, wild and crazy goon, with good size and perhaps enough hockey sense to play a regular shift. Conboy had a decent season in 2010-11, scoring 13 goals and 23 points to go with his 116 PIMs in 64 games, but this past season injuries meant he could only play 10 games, in which he did little to get noticed. As a result, this could be the end for him in the organization, as his role has been usurped by
Ian Schultz
, but it is possible he is retained for his 6'4" 200 lbs frame on the 'Dogs fourth line.
The last three,
Dany Masse
,
Robert Slaney
, and
Hunter Bishop
, are all reasonably likely to be let go to create some room under the 50-contracts-per-team NHL limit. Masse is just 5'10" and scored 19 points in 58 games this year, while Slaney - acquired from the Nashville Predators for added AHL depth in the Hal Gill trade - has generally struggled to establish himself as more than an ECHL'er. Bishop showed a glimpse of perhaps a little promise a year ago, but missed this past entire season with injury, derailing his development.
Danny Kristo
, who I included in the line-up at the top, has not yet been signed, and has options to either return to college for a final season or to hold out and become an unrestricted free agent. However, it would seem to be in the best interest of both himself (for development purposes) and the Canadiens (since he has nothing left to prove in college) to get him under contract and have him go pro. He turns 22 this summer, so is more physically mature than some of the other youngsters and should be able to step right into an important role. Along with Kristo, the trio of CHL'ers in
Brendan Gallagher
,
Michael Bournival
, and
Patrick Holland
have some exciting upside and will have a very interested audience in Canadiens' fans. All have some questions around them, however. Is two-way, goal-scoring center Bournival's current post-season slump a fluke (or injury-provoked)? Will the diminutive yet fierce sniper Gallagher's size hold him back at the pro level (and might playing with a big body like
Ian Schultz
, coming off a good season with 23 points and 104 PIMs in 60 games, help)? Can the playmaker Holland produce without the two star linemates he's had all year? Time will tell, but there is no real need to rush any of the three at this point.
One last interesting case is
Alexander Avtsin
, who is still under contract for next season, but who I've left off the roster for now. Certainly he could take up one of those fourth line slots to start the season, but the 21-year old skilled Russian's compete level and play without the puck saw his production decline from his rookie season, going from 20 points in 58 games to 14 in 63. There's lots of potential under his 6'3", 188 lbs frame, but based on this regression, it wouldn't surprise me if the Canadiens end the experiment and assign him to Europe. If he is happy to stay, however, it may have been the case of a pro sophomore slump and learning experience for Avtsin, and I'd be happy to keep him around and see what happens. He's already signed, so there is nothing to lose.
Aside from that, the team will be buoyed by returnees. The center depth lacks a little (which may encourage the signing of a UFA), banking on
Phil DeSimone
building on a 14-goal, 33-point rookie campaign.
Gabriel Dumont
(pictured at top) finished the year in Montreal and will have a shot at sticking with the Canadiens, but as he's undersized, I expect him to remain in an injury call-up role.
Joonas Nattinen
had an up-and-down first season in North America, so he'll need to work on his consistency to keep ice time with the newcomers.
On defense, a trio of CHL'ers are also ready to make their debuts. The towering and punishing
Jarred Tinordi
is used to playing big minutes, since he regularly plays close to 30 minutes a night for London. He had a great World Junior this year, and is presently having a very strong playoffs. Offensive d-man
Nathan Beaulieu
isn't yet signed, but spending another season in juniors would make no sense at all for him with how dominant he has been, so it should be a matter of time, despite the fact that he's still only 19.
Morgan Ellis
impressed many this year for more than just some flashy offensive numbers, but for using his solid 6'2" frame to play a good defensive game and get physical when called upon.
Greg Pateryn
has completed his college career, and the 6'3", 214 lbs blueliner is well-suite to a shutdown role. One of the bigger knocks against him is his skating, so the team will have to see if that holds him back at the next level.
The Canadiens have 3 pending UFA's on Hamilton's blueline in captain
Alex Henry
, and veterans
Garrett Stafford
and
Joe Callahan
. Henry is a quality tough, shutdown guy, who at 32 has played 177 NHL games (including 2 with the Habs in 2008-09). If he is happy to stay, then he certainly could be retained, but if he wants another shot at the NHL, he has to realize that he's about to be passed in the depth chart by a strong incoming class this Fall in this organization. Stafford is probably the most attractive to keep, more of a two-way player who is a perennial AHL star. The fact that he's a right-handed shot would give the 'Dogs a perfect balance of three and three based on the above depth chart which doesn't hurt either. Callahan was signed after Jeff Woywitka was lost on waivers to provide added depth, and there isn't real reason to expect him back.
Two RFAs will also require decisions in
Brendan Nash
and
Mark Mitera
. Nash, like
Hunter Bishop
, missed this entire season with injury after showing promise last year. But whereas Bishop showed some potential as a long-term forward project, Nash seemed reasonably close to NHL-ready on the blueline, and as such remains a legitimate prospect and should be retained. Mitera was acquired last summer in return for Mathieu Carle, but the former first round selection had a rather rough season in Hamilton and could be left unqualified and replaced.
Lastly, in goal, the pipeline remains quite empty. Neither
Robert Mayer
nor
Peter Delmas
appear to have NHL potential, nor are either amongst the AHL's top netminders. As such, it is likely the team again hits the UFA market in search for a veteran AHL starter.
Nathan Lawson
- when healthy - wasn't bad this year, but there are many free agent options including Drew MacIntyre, Jason Bacashihua, Cedrick Desjardins, Yann Danis, and Dany Sabourin. It shouldn't be hard to fill this spot, and the team should look to a guy who would be ready to play limited NHL minutes in case (knock on wood) of an injury.
How ever the Habs new management team decides to fill out the roster, it looks far better than what the 'Dogs played with this season, and while it isn't inconceivable that the youngsters struggle to adapt off the hop, there is enough talent there that Hamilton supporters can hope for a playoff berth a year from now.