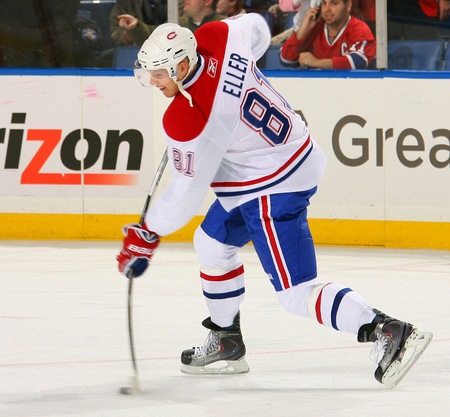 Ever since he became a Montreal Canadien, there has been tremendous pressure on Danish center
Lars Eller
. Jaroslav Halak had been idolized as a hero in the city of Montreal following his incredible run during the 2010 playoffs to lead the team to the Conference Semi-Finals. And yet, just a month later, he was sent to the St. Louis Blues in return for a 6'2" center who had just celebrated his 21st birthday.
Those were big shoes to fill for a young man having just completed his first season on a new continent, quickly establishing himself as an AHL star and scoring his first 2 NHL goals in 7 games with the Blues. Fans were quick to dream that the player who went 13th overall in the 2007 Entry Draft might be the true first line offensive center this team has lacked for over a decade.
But here we are, almost two years later. If you read the sidebar of this site, you'll see I list Eller amongst my favourite current Canadiens to watch. He is a good skater and his soft hands make him perhaps the best stickhandler on the club. He is capable of pulling off electrifying dekes in a role left vacant by the departure of Alex Kovalev. He can use his size to dish out the occasional well-timed hit. So he should clearly be a fixture for years to come, right? Well, there's a bit of a problem.
Just shy of 23 years of age, it is unfair to say that Eller has reached the pinnacle of all he'll ever be as a hockey player. It might take him another 1-2 years just to enter his prime productivity period. But his output thus far in Montreal - 7 goals and 17 points in 77 games last year, and 13 goals and 23 points in 63 games this season - is not that of a top 6 forward. He has shown flashes on many a night - none brighter than his four goal performance against the Winnipeg Jets - but also fades to obscurity on others. I wouldn't doubt his commitment or level of effort; rather, it seems the elements he brings aren't effective on a regular basis. To take that next step, his game will need to evolve by somehow working on his scoring touch around the net, or improving his strength and physicality.
I would still be hesitant to call any of this a problem, as I'm by no means ready to give up on Eller's game. As a young player developing on a third line, I strongly believe he can be quite effective. Placing him there also allows the Canadiens to roll three lines capable of being dangerous in the offensive end. The problem? That he isn't alone in that role.
None of the team's current top 3 pivots, Eller, Tomas Plekanec, or David Desharnais, fits the role of a fourth line center. The problem is that to improve the club, there remains a need for a more offensively dominant first line center. If the Habs succeed in acquiring such a player - whether through a trade or with their first round selection this summer - one of Eller, Plekanec, or Desharnais will be bumped, meaning the time for slow development and easing into a role is over.
Let's say the Canadiens draft Mikhail Grigorenko or Alex Galchenyuk, and come training camp in the Fall, the selected forward impresses so much that the Habs opt to keep him with the club. As the only real veteran of the bunch,
Tomas Plekanec
is quite certain to remain as the other top 6 center to ease the top pick's transition to the bigs (though I had previously suggested
he is moveable if a big center is brought in through trade or eventually in future years as a UFA
). Thus you're left with Eller and Desharnais fighting for a single job.
At 5'7", opting for Desharnais over Eller goes against the team's mission to get bigger. At the same time, however, choosing Eller's proven 23-point capability over Desharnais's 51-point (and counting) breakout season seems illogical on a team that frequently struggles to score. So what are our options?
1) Trade Desharnais
It is conceivable that Desharnais's physical limitations will catch up to him and that this season will be the most productive one of his career. If that is the case, it would make sense to trade him now while his value is maximized (especially given his basement bargain contract for next season which would be very attractive to many clubs). It is also possible that this is just one step in Desharnais's development and that - still only 25 - he will continue to be a productive player for many seasons. Can the Canadiens afford "giving up" on another local son to see him succeed elsewhere?
2) Trade Eller
Will Eller ever be a 50-point producer in the NHL? Certainly there would be teams willing to take a chance on the fact that he remains capable of such numbers. His value is quite certainly higher than Desharnais's even despite his lesser output to date, and he could be a solid chip towards acquiring another young player to fill a hole on the wing. The problem is the opposite of Desharnais's in that dealing him now would be moving him at far less than his peak value if he is to become such a player. But at the same time, by holding on to him, you risk ending up with a depreciating asset if Eller is to have another sub-30 point season next year. The lure of his being a first round choice from five years ago will quickly wear off.
3) Move Desharnais to the Wing
Of course, the Canadiens can keep both Eller and Desharnais by shifting one to another position. By playing DD on the wing, the Canadiens would minimize his defensive responsibilities - a weaker area in his overall game. However, he'd also be responsible for winning more battles along the boards, which may be a struggle given his diminutive frame (but not for a lack of heart). The bigger issue, though, would be who to play him with. As much as Desharnais deserves plenty of credit in his own right, a significant portion of his production this season has been aided by being flanked by the team's twin offensive towers in Erik Cole and Max Pacioretty. It is unlikely that the Habs would put him on the wing of a rookie, and playing Tomas Plekanec would make for an awfully small unit. That leaves Eller's wing which, if used as a third trio completed by a bigger body like Rene Bourque (though that would mean 3 left shots) or a defensively-responsible guy like Travis Moen (again three lefties) or Louis Leblanc (could be a fit!), might actually be effective. Write that down, Habs brass, who undoubtedly reads this very site carefully on a daily basis. One issue is the loss of Desharnais's 50% in the face-off dot on a club that struggles in that area, in favour of Eller's meager 45.7%. So let's keep looking...
4) Move Eller to the Wing
Eller was tested as a top 6 winger right from his early days in Montreal without major success. Could it be time to give him another shot? He is weak on the draw, but strong enough to handle his own along the boards and tends to position himself more off to the side than directly in front of the net. Playing the wing might give him fewer opportunities to work his stickhandling magic through the neutral zone, but it may give him more of a chance to get off his quick release and/or improve his finish-ability around the net. To this end, perhaps playing him on Desharnais's side would allow the freeing of Pacioretty and/or Cole to play with other forwards in the top 6. If Eller proves his worthiness, he could be tried on a top unit alongside a Tomas Plekanec to give the team more flexibility down its depth chart as well. This seems like inevitably the "safest" best solution for the team if they manage to land a true #1 center.
So there you have it. Which option sounds best to you if a spot is named for Mikhail Grigorenko next October? Or perhaps you have another idea in mind? Discuss away!