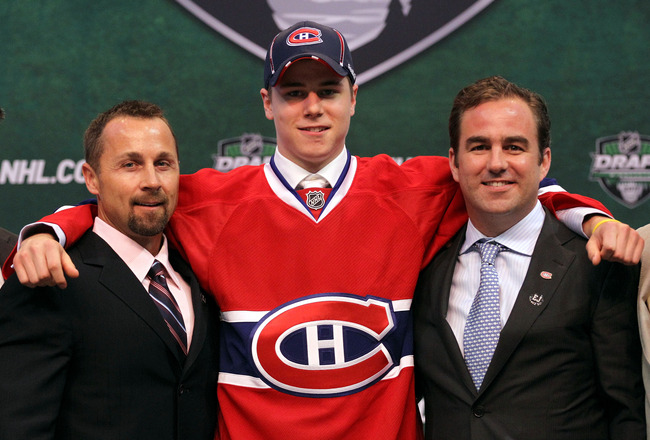 With yesterday's announcement of the firing of Pierre Gauthier (and letting go of his advisor, Bob Gainey), the Montreal Canadiens are entering a new era in their long and glorious (though not so much recently) history. The question on everyone's lips (and blogs) is who will be the guy to take over at the top and turn the team around from a dismal season.
Most of the candidates out there have had their names tossed around, and it is certainly possible that a few more hats are tossed in the ring as the regular season comes to a close and other teams may decide to part with their own GMs. Here is who I have as a top 10 wish list of potential new General Managers for our Habs.
10) Trevor Timmins
If there is one guy from the current regime that I sincerely hope remains in place, it's Trevor Timmins. The Canadiens may not have made the flashiest picks over the past few years with Timmins as Director of Procurement and Player Development / Head Amateur Scout, but it is hard to do that picking in the middle-to-late end of the pack. Numerous studies and analysts have lauded the Canadiens as one of the best drafting teams in the past few seasons, pulling quality NHL players out of later rounds (
Ryan White
, Sergei Kostitsyn, Matt D'Agostini,
Alexei Emelin
, Mikhail Grabovski, Mark Streit, Jaroslav Halak... etc.), while finding underrated players earlier on (
P.K. Subban
, Ryan McDonagh,
Max Pacioretty
...). Sure he's made some mistakes (David Fischer, Andrei Kostitsyn over a boatload of other talent), but no scouting department is perfect. Timmins lacks experience with the other General Manager functions, but with an experienced assistant, he might give the team a fresh face who will help to ensure the youth cupboard is always full (a la Detroit).
9) Julien Brisebois
Brisebois is higher than this on most lists because of his work along with Steve Yzerman in Tampa Bay. Certainly, he is well educated, has gained some experience around the league, and is headed in the direction of becoming one of the game's youngest GMs, but I would stay away from him for now. First, back in his Montreal days, he was handed the title of Capologist, with one of his main duties being salary negotiation. Unfortunately, he was with the organization during a time where the Habs were most heavily criticized for overpaying players, part of which could he hung over his head. This is not to say that people can't change and evolve over their careers, but I also feel the work he and Yzerman have done in Tampa gets overrated at times. A few quality moves no doubt, but they were handed the majority of the team's core (think Brian Burke in Anaheim) and have failed to address the biggest concern they inherited in the goaltending situation. Still, the team could do worse than his qualifications.
8) Patrick Roy
Roy is the most popular candidate with many Habs fans, but he's another guy I don't feel is ready. His work with reasonably strong - but not top on paper - teams in Quebec in the QMJHL has been impressive, but he has shown few signs of tempering my biggest concerns with me. Roy is a hot-head and a guy who likes to have the spotlight on himself, which may not go over well with Geoff Molson and the rest of the Canadiens organization. Would he get along with his coaches and the rest of the staff? Would he be too reckless in wheeling and dealing? You could say that these qualities are also possessed by Brian Burke, and you wouldn't be wrong, so I don't think they'll keep Roy out of the big show for long, but I also don't think the Montreal market is right for him at this time. At the same time, he's a guy who knows well what the Canadiens are all about, and I have no doubt he'd be highly motivated to do whatever it takes to build a winning club in this city.
7) Claude Loiselle
Loiselle now has experience as an Assistant GM with two organizations (Tampa Bay and Toronto) and may be ready to move into the top job somewhere. More than just a former NHL'er, Loiselle earned his Law degree from McGill University following his playing career, so he certainly has management credentials. He is an informatician and CBA expert who is also a former scout, meaning he shows promise and ability to handle every responsibility thrust upon a General Manager, but of course lacks the experience of ever actually being at the helm of a club function. As a player, Loiselle was a gritty, hard-nosed third or fourth line type, and this kind of identity might be what the Habs nees to add toughness throughout their roster. But is Toronto ready to let him walk from his current post?
6) Pierre McGuire
Everyone has an opinion on McGuire, whether positive or negative. The provocative hockey analyst was a part of the Pittsburgh Penguin Stanley Cup teams in the early 1990s as a Scout and Assistant Coach. He also served as Assistant Coach and Assistant GM with the Hartford Whalers, briefly taking over the Head Coaching role as well. Finally, he worked with the Ottawa Senators during their first few years of existence, but has been out of an NHL executive role since 1996, which many point to as a main reason not to hire him. There is no doubt that McGuire lives, breathes, eats, and sleeps all aspects of the game of hockey. He watches and discusses it non-stop, from the U.S. College level right up to teams across the NHL. He is well-connected, and a thick contact book can help to take a team a long way. People criticize his loud, over-the-top, man-crush-like method of calling hockey games, but if he were to be hired as a GM, there is no doubt he would tone it down; his television act is just that. He has been interviewed and passed over for many jobs over the years, and might be a better candidate as an assistant within a management team (if he were willing to leave television for such a role), but it would be an interesting experiment to see if his passion for both hockey and the city of Montreal could translate to success. That he is a friend of Geoff Molson's won't hurt his case.
5) Dave Nonis
Is Dave Nonis willing to leave Brian Burke's side in Toronto? If so, he is a top candidate for any GM opening this summer. Nonis worked with Burke for 6 years in Vancouver (the management team which orchestrated the move to grab both Sedins) before taking over the GM reigns from him in 2004, after which he architected the trade for Roberto Luongo. He later joined Burke again in Anaheim a year after their Stanley Cup conquest, and then in Toronto, where he currently serves as Senior VP and Director of Hockey Operations. Nonis is one of the few quality and truly well-experienced candidates who could be available to Geoff Molson, so it would surprise me if the Canadiens didn't at least request permission to speak with him.
4) Pat Brisson
Brisson, a native Montrealer, is a highly influential player agent who counts Sidney Crosby, Evgeni Malkin, Jonathan Toews, and the Sedin brothers amongst his clients. Certainly, education and negotiation ability are some of his stronger points, while a lack of NHL management experience is his fault, though it hasn't stopped his name from popping up in GM discussions in the past. The agent-to-General Manager career path isn't unheard of, however, with Mike Gillis in Vancouver being a prime example. Is Brisson interested in such a career switch for likely even or less money and far more media attention? If so, as someone without a long management track record, the team will need to carefully assess his assessment and other abilities.
3) Paul Fenton
Fenton, a former NHL forward, serves as Assistant General Manager with the Nashville Predators, a team that - year after year - finds a way to stock its roster with underappreciated and underrated talent, qualifying for the post-season with a typically well below-average payroll. The role is really the only one he has head in the realm of NHL front offices, but he has gotten noticed as a big factor in the team's success, meaning whether or not its the Canadiens, he is sure to get a look for some top jobs in the near future. Fenton has a strike against him in that he doesn't speak French, but he should be known well to those who remain in the Canadiens front office from Montreal's frequent dealings with the Predators both this season and in the past.
2) Marc Bergevin
If French will be a major pre-requisite in this summer's GM hunt, then Bergevin would be my top candidate. The native Montrealer never played for the Canadiens during his nearly 20 year professional career as a defenseman, but has worked in the Chicago Blackhawks organization since his retirement, contributing to the organization's revival and Stanley Cup championship in 2010. He started as a Pro Scout, then moved to Assistant Coach, and Director of Player Development, before becoming Assistant General Manager last summer. He is admired by his peers, and said to have a strong hockey network. Another big point in his favour is that he is part of a group that has found creative ways to shed a team of troublesome contracts in Cristobal Huet and Brian Campbell without having to make sacrifices. If he his hired,
Scott Gomez
and
Tomas Kaberle
might be wise to start packing their bags.
1) Jim Nill
Nill has been one of Ken Holland's right hand men in the Detroit organization for the team's last four Stanley Cup conquests (1997, 1998, 2002, and 2008). The former Ottawa Senators scout has served as Director of Amateur Scouting and then as Assistant General Manager with the Red Wings in the city where he finished his NHL playing career. With such a resume and given his club's successes (especially at the draft table with Pavel Datsyuk, Henrik Zetterberg, and others), the obvious question is why Nill hasn't been picked up by another organization with a vacancy. The answer is that it has been his personal choice to stay in Detroit, which along with the language issue, is another potential roadblock to him taking over the Canadiens. Further, if he has chosen to remain out of the spotlight playing second fiddle in Detroit all this time, would he really consider a move to a market like Montreal? As Habs fans, let's hope so.
Of course, along with the good, the Canadiens also have the potential to make a big mistake this summer. Here is a short list of a few names I desperately hope the team avoids.
1) Vincent Damphousse
Damphousse's name has been thrown around a lot lately, and while he is a big Canadiens supporter and has experience working with the NHLPA, he is completely fresh to the "game" of managing a hockey team at any major level. I wouldn't be opposed to giving him a job somewhere in the organization to get his feet wet, but starting him out at the top seems a little excessive.
2) Craig Button
TSN analyst Craig Button was once Director of Scouting and Player Personnel in the Minnesota North Stars / Dallas Stars organization, working with Bob Gainey among others. He had his hand in the drafting of many star (no pun intended) players including Jarome Iginla, Brendan Morrow, Derian Hatcher, and Jere Lehtinen. He later served as GM of the Calgary Flames, making the notorious move of allowing Martin St. Louis to walk from the club. Still, he helped piece together the 2003-04 team that made it to the Cup finals, and later served as a scout for the Maple Leafs. Button's commentary on TSN since his executive career has ended has been laughable at best. He shows little talent in assessing prospects or evaluating the strengths and weaknesses of NHL clubs, being called out on numerous occasions. His days in management seem over.
3) Mike Milbury
I don't think this one needs an explanation. Milbury has been regarded as one of the worst GMs of all time. He has been out of a GM'ing job since 2006 and let's hope it stays that way (unless the Leafs or Bruins want to give him a call).
4) Larry Carriere
A controversial one perhaps, as Carriere was not sent packing along with Gauthier and Gainey, remaining in place as an interim General Manager. It seems the Canadiens are set to look outside the organization for their new GM, but I suspect Molson will give his friend Carriere an audition for the post. Carriere has been with the organization since July 2010, serving as Assistant GM and spending some time behind the bench as an Assistant Coach this year. Prior to this, he served as a Scout, Director of Player Evaluation, and then Assistant General Manager with the Buffalo Sabres, and a Pro Scout with the Washington Capitals. He has experience in all vital areas, but I think the philosophy shift the organization needs has to come from elsewhere; Carriere, at this point, is too closely linked to the old coaching and management regime (similarly, we can all pray that Jacques Martin isn't considered for the job). I'm not opposed to him remaining with the organization, but not as GM.
5) Allan Walsh
Another agent with the potential to become a GM in the future, Walsh is a native Montrealer who has gained attention and respect in the agent community with his innovative tactics. He was the first agent to join Twitter and to use it to applaud his clients' successes and support their causes. This made him a controversial figure in Montreal some two years back, since he would hype client Jaroslav Halak's performances while taking veiled shots at
Carey Price
. He brings to the table the kind of outside-the-box thinking the organization might seek, but he is quite short on experience and his outspoken nature might not go over well with some.