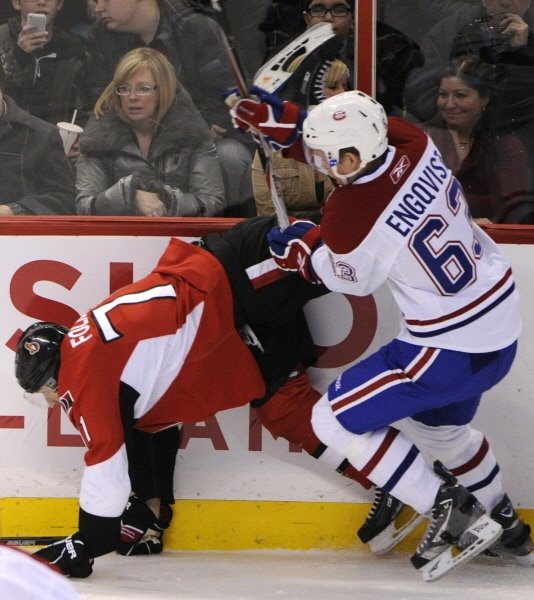 The Canadiens will not make any changes to their line-up for tonight's game against the Tampa Bay Lightning, which means the following roster:
Max Pacioretty - Lars Eller - Erik Cole
Travis Moen - Tomas Plekanec - Andrei Kostitsyn
Mike Cammalleri - David Desharnais - Louis Leblanc
Mathieu Darche - Petteri Nokelainen - Michael Blunden
Josh Gorges - P.K. Subban
Tomas Kaberle - Alexei Emelin
Hal Gill - Raphael Diaz
Carey Price
- Starting in goal for Tampa will be former Canadien Mathieu Garon. Garon last played for the Habs during the 2003-04 season. Only two players who were on the team that year remain in Montreal, being Andrei Markov, and Tomas Plekanec who played his first two NHL games that season.
- Also playing for Tampa Bay, in his third game of the season, will be J.T. Wyman. A defensive forward (who actually started out his hockey career as a defenseman), Wyman spent 4 seasons with the Hamilton Bulldogs, playing 3 games for the Canadiens in 2009-10.
- Today was an optional skate for the Habs, but all players were on the ice except for
Michael Cammalleri
and
Travis Moen
. A
Tweet from J-F Chaumont
prior to practice indicated that
Carey Price
and
Mathieu Darche
were catching up with Lightning forward Tom Pyatt, while
Max Pacioretty
chatted with Martin St. Louis. The connection with Pyatt may be obvious to you, seeing as he played in Montreal last year, but the St. Louis - Pacioretty friendship is a little more obscure. This past July, Pacioretty's first "game" following the infamous hit by Zdeno Chara was
a charity match in Connecticut in which Pacioretty skating on a line with St. Louis
.
- World Junior Championships updates from yesterday:
Jarred Tinordi played a strong game for the United States, earning his team's player of the game honours, despite the Americans dropping a 4-1 result in an upset to Finland.
Michael Bournival improved on his first performance for Team Canada, playing the third/fourth line center role well in Canada's 5-0 victory over the Czech Republic. And this improvement despite the fact that a bad cold almost meant Bournival had to sit the game out. Bournival's assist in the game means 4 of 5 Canadiens prospects in the tournament now have at least a point.
Brendan Gallagher, on the other hand, didn't have as strong a night as in the opener, missing two great scoring chances (one shot directly into the Czech goalie, and the other a whiffed one-timer) and taking two penalties.
Nathan Beaulieu continues to receive limited ice time in the #7 defenseman role, serving mainly as a powerplay specialist. With the man advantage, Beaulieu's shots frequently missed the net, plus for a second consecutive game, he took a third period penalty. Beaulieu has played well enough to deserve more ice time, but he'll need to step it up further to earn his coach's trust.
Daniel Pribyl was officially named to the Czech Republic's roster yesterday afternoon, recovering from the leg laceration that made him questionable for the tourney. He made his debut in a limited role against Canada last night.
- The Hamilton Bulldogs were also in action last night but were shut down by former Canadiens goaltender David Aebischer. Despite outshooting the St. John's IceCaps in each period (and 40-26 on the night), the 'Dogs fell by a 3-1 score. Andreas Engqvist had Hamilton's lone tally, his 8th in just 16 games. He had only 10 in 71 games last season.
- The last few weeks have seen many trade rumours about Canadiens prospect defenseman Morgan Ellis jumping to another CHL team, but it seems all have reached a stalemate for the time being. This would have nothing to do with his NHL rights (he would remain a Hab), but the Cape Breton Screaming Eagles, the team he captains, sit 14th of 17 teams in the QMJHL. Ellis is expected to turn pro next season as he makes the leap to the AHL (or at least the ECHL) but could prove a hot rental for the remainder of this year for a Memorial Cup contending team. He picked up 1 assist in a 5-4 shootout win last night, giving him 25 points in 33 games. A lot of the discussion has involved him joining a team of another Hab prospect, possibly to play with Nathan Beaulieu on the stacked Saint John Sea Dogs, or solidifying the defense of Michael Bournival's Shawinigan Cataractes. The current QMJHL trade window closes January 7th, so a move should be completed between now and then.