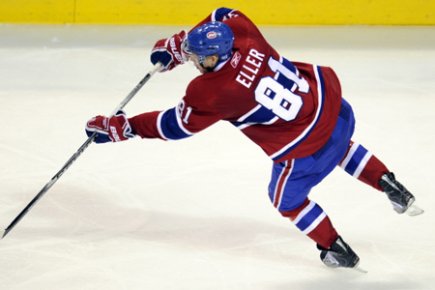 Montreal
- Habs fans will be forgiven for thinking, in last night's third period, that they were watching a tape of many prior third periods this season. We've seen the horror story before: the Canadiens build a lead (in this case, 3-1), then sit back, and some sloppy defensive zone coverage lets the other team right back in. Last night, Jacques Martin was quick to point out
P.K. Subban
on the New York Islanders' first goal, and
Raphael Diaz
on their third as the culprits of bad giveaways that almost cost the Canadiens a point or two.
But at the end of the day, we will look back on this night and see two points in the bank. It wasn't always pretty - and who'd have thought that Mathieu Darche, Petteri Nokelainen, and Hal Gill could ever all score in the same game (#PlayersWithMoreGoalsThanScottGomez) - but with the amount of points the team has lost this year that they likely should have earned, I'll take it. Sad but true, the win puts the Habs at two games over .500 for the first time this season!
There were definitely things to build on. Erik Cole remained, as he has been since about game 7 of the season, the Canadiens' most dangerous forward. He is definitely staking claim for his signing to be Pierre Gauthier's best move as GM. His 11th goal of the season tied him with Max Pacioretty for the team lead and has him on pace for 29, just short of his career high of 30. But what was perhaps more impressive was a play in the third period where Cole, being his usual self, drove hard to the net with the puck, but had his legs taken out by defenseman Travis Hamonic, resulting in his crashing hard into the goal post. Cole stayed on the ice for a few seconds, as Habs fans around the world held their breath, but he got up, skated around, and stayed on the bench. Moments later, he was back on the ice, and repeated the play almost immediately. He took the puck and drove in hard, again against Hamonic, generating a chance. This time it was Hamonic knocking the net off its moorings, but it didn't stop Cole from chopping a buck past Al Montoya after the whistle had gone. Hamonic challenged Cole, and the likable American didn't back down, engaging in some jousting. If Brian Gionta is ever dealt away from Montreal, I'd say Cole is as strong a candidate as any to take over as captain.
Also good last night was Lars Eller, assisting on Nokelainen's game winner. He showed more glimpses of his incredibly soft hands that make him, in my mind, the best stickhandler on the team. However, he suffers from a chronic lack of finish. I'm not sure what it's going to take for him to unblock (better linemates?), but it is certain that his stat line doesn't come close to reflecting his incredibly high skill level.
Tomas Kaberle is a general on the blueline on the powerplay. He patrols the center of the ice efficiently, and is extremely proficient and holding the puck in along the line. The team's powerplay has improved tenfold with his addition, even if there are still a few kinks to work out. His even strength play, however, does leave something to be desired. After being on the ice for the tying goal, he was glued to the bench for the final 8 or so minutes of regulation.
Chris Campoli looked solid in his debut. He won't wow anyone with his defensive zone play, but he's more intense in his own zone than Kaberle, and supported the attack well on a couple of occasions. With Diaz having a bit of an off night, it will be interesting to see how Jacques Martin manages his d-men and if he re-inserts Alexei Emelin for tomorrow's game against the tough Philadelphia Flyers.
There was some concern as Travis Moen, he of a therapy day missing practice on Monday, took a shot off the foot and left the game. Moen has been playing some great hockey for the team, and though he is considered day-to-day for now, if he is to miss some time, his loss will be felt. Especially since even with Moen, the team only has 11 healthy forwards on the roster. A call-up from Hamilton would be necessary to replace him.
Still missing in action were Tomas Plekanec and Mike Cammalleri. Cammalleri has always been a streaky scorer, so fans can continue to hope that it begins to click in the near future. Plekanec, however, is a bit of a concern, as it isn't his skill level or shot that earned him a fat contract. It has been his intensity, jump, two-way play, and creativity on the ice that have endeared him to Habs fans, and even if he does lead the team in points, all of these traits have been lacking this season. He has been unable to create offense or help the game of his linemates, and given that he was generally always a guy to bring his 110% on a nightly basis, it is quite inexplicable.
But, a win is a win. The Canadiens are in striking distance of climbing back into a playoff spot, and hopefully they can extend their longest winning streak in a month (2 games) against some tougher competition in the days ahead.
Alberta
- Yesterday was the third on-ice day at Hockey Canada's World Junior Championships selection camp. Habs' prospect
Brendan Gallagher
was made a healthy scratch for the final exhibition game, indicated that he has made the final roster. Congratulation Brendan!
Playing for their spots last night, however, were Nathan Beaulieu and Michael Bournival, both in hot competition for spots as an offensive D and two-way center respectively. For the most part, Bournival had been relatively unnoticeable, while Beaulieu had looked good on the powerplay but had largely failed to produce.
Last night changed everything, with strong performances from both future Canadiens. Beaulieu assisted on Canada's first goal against the CIS Alberta All-Star team (on the powerplay) before adding a powerplay marker of his own to tie the game at two. He generated chances all night and was quite solid in his own end. He definitely did all he could to leave a good enough impression to make the squad. At this point, I'd be more surprised if he did not make it than if he did.
Bournival, meanwhile, skating on a line with Brett Connolly and Brett Bulmer, had perhaps some of his team's best shifts throughout the game, with a number of strong cycling shifts down low in the offensive zone, very fitting for a guy looking to lock down a possible fourth line role. But with Philip Danault, one of Bournival's possible competitors for the spot, potting two goals in the second period, the Shawinigan Cataractes captain needed to step it up further. And that he did, roofing a wrist shot top shelf for a goal of his own.
Beaulieu and Bournival performed as well as could have been hoped for, but must now play the waiting game due to the deep talent pool in camp. They'll find out their Christmas fate over the next couple of hours as Canada makes its final cuts.