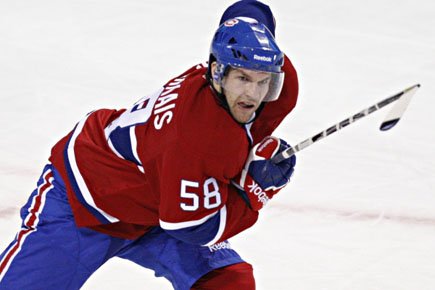 For a 25-year old second year NHL'er to improve his points-per-game average from .5 in his rookie season to over .7 as a sophomore, scoring 35 points in 49 games and becoming the team's top offensive pivot, is quite a feat. Such a player would normally be seen as an up-and-coming star; a forward with great potential for a long and productive career.
So where then has the hype machine for Montreal Canadiens center David Desharnais been? With 2 goals and a helper in last night's 7-2 win over the first place Detroit Red Wings (and even if I'm fully on Team Tank, I'll admit that feels good once in a while), Desharnais has passed Tomas Plekanec for top spot in points amongst centers on the team, and is tied for 2nd in points amongst all Habs with linemate Max Pacioretty (behind other linemate Erik Cole).
Has the lack of promotion been because Desharnais is just a product of his linemates? Certainly having twin towers on either side of him hasn't hurt his statistics this year, but he also looked dangerous when playing with Mike Cammalleri for a stint. Is it because he's a one-dimensional offensive player? He may sometimes be dominated in his own end, but he has managed to maintain a +11 rating on a cellar-dweller team this season while playing an average of 17:50 a night. Maybe it's because he can't win a face-off? He did start the season off slowly in that department, but he has improved back up to the 50% mark. No, the reason for the lack of belief in Desharnais's abilities has nothing to do with any of his hockey skills. Clearly, the only reason some wonder about his future is his 5'7", 177 lbs frame.
Small players never have it easy on route to the National Hockey League. They have to prove themselves over and over again to show that they can compete with the big guys in a rough and tough game. Desharnais has done just that throughout his career, never being drafted but earning a contract with the Canadiens organization thanks to QMJHL seasons of 51, 97, 118, and 108 points. But even under contract, he was deemed unprepared for the American Hockey League, spending his first pro season in the ECHL. Would it be too much for him to handle? His 106 points in 68 regular season games, 33 in 22 playoff games, and league MVP award all said bring on the next challenge. In his rookie season in Hamilton, he scored 24 goals and 58 points in 77 games and in 09-10, in addition to making his NHL debut for 6 games, he improved his Bulldog production to 78 points in 60 games, not to mention 23 in 19 post-season contests. And then the jump to the NHL, where after a solid first season last year, Desharnais seems to be only getting better. He has succeeded everywhere he's gone.
I've seen it asked by fans over and over again whether David Desharnais would even be an NHL player in other organizations. It's getting harder and harder to say "no" to that question as he continues to display an off-the-charts offensive skill set. Does he need big linemates to be successful? It definitely helps, just as playing with Vincent Lecavalier and/or Steven Stamkos helped the development of Martin St. Louis in Tampa Bay (and his incredible skills of course helped their production as well). The problem then is the fit in Montreal. The Canadiens don't have an abundance of large forwards for DD to play with, and also lack size down the middle. So how do you make it work?
The easy armchair GM answer, which I've advocated for previously, would be to trade one of Desharnais or Tomas Plekanec (your two undersized top 6 centers) and bring in a big, physical, offensive powerhouse #1 C. Signed at a very cap-friendly hit of $850,000 for next season, Desharnais's value is likely as high as it will ever be. Such a move would provide needed balance to the lines and improve matchups against bigger opposing players. Unfortunately, such centers don't grow on trees, and if the Canadiens can't lose enough games to draft Mikhail Grigorenko, given a lack of solutions on the UFA market this summer, there may not be a quick fix.
So what's our next option? Get bigger. The Canadiens aren't that far off from this point honestly. With Pacioretty, Cole, and Rene Bourque, if Andrei Kostitsyn can also be re-signed, you would only need to look for one more offensively capable player with size to ensure there will always be enough space for the smaller men to work their magic. If you can replace Scott Gomez with a Tuomo Ruutu, and perhaps add a Paul Gaustad to center the fourth line (giving you 2 smaller centers in the top 6, but two bigger centers with Gaustad and Lars Eller for the bottom 6), then there may not be any problem having all of Desharnais, Brian Gionta, and Brendan Gallagher dressed up front.
But if Desharnais is the one to be moved, then I won't have a problem with it. In fact, I'll applaud Pierre Gauthier for getting maximal value out of an asset some thought worthless not long ago. Assuming that is, that I deem the return acceptable. Otherwise, I reserve the right to organize a protest outside the Bell Centre expressing my discontent. And as a Habs fan, I know I'll have plenty of company.